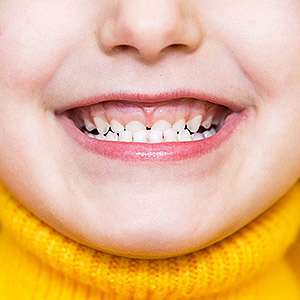 Each year some 4 million teens and pre-teens have their teeth straightened with braces or clear aligners. But there's another facet of bite correction that can take place much earlier in a child's life—and which might reduce or eliminate orthodontic treatment later.
Techniques known as interceptive orthodontics do exactly what the name implies—get ahead of bite problems before they fully develop. Many of these treatments attempt to influence jaw development, a prime factor in many bite problems. Although braces may be a part of interceptive treatment, it often includes other devices.
Here are 3 examples of interventional treatments that can stop a growing bite problem in its tracks.
Palatal expanders. Sometimes, an upper jaw may be growing too narrowly. As a result, incoming permanent teeth don't have enough space and can erupt out of position. A palatal expander device, usually installed around age 7 against the roof of the mouth, puts pressure on the side teeth to "push" the jaw outward. This widens a gap in the center of the pallet, which then fills with new bone. By the time the gap closes in early adolescence, the jaw has gained width and more room for incoming teeth.
Herbst appliances. Supporting muscles and bones can pressure the upper jaw to grow too far forward, which in turn creates an overbite where the upper teeth severely overlap the lower. An orthodontist may attach a Herbst appliance, a device consisting of two metal hinges, to the upper and lower jaws toward the back of the mouth. The hinge action forces the jaw muscles and bones to move the lower jaw forward as it grows, resulting in a better relationship with the upper jaw.
Space maintainers. Not all interceptive techniques involve intricate appliances—a simple looped wire could prevent a later bite problem. Because primary (baby) teeth hold the spaces for future permanent teeth, losing one too early could create an empty space into which surrounding teeth can drift. This, then, reduces the space available for the incoming tooth, causing it to erupt out of position. Placing a looped wire called a space maintainer into the space prevents the teeth around the gap from moving into it.
If you would like more information on various orthodontic treatments, please contact us or schedule an appointment for a consultation. You can also learn more about this topic by reading the Dear Doctor magazine article "Interceptive Orthodontics."